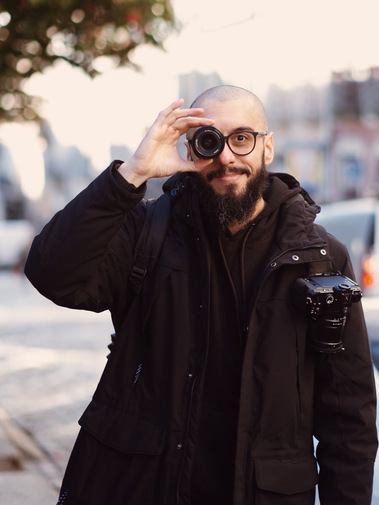 About me
Hello! My name is Gabriel and I've been a professional photographer for over 18 years (yep, I'm older than I look). I'm based in Porto but was born and raised in the north of Brazil, a region that has a lot in common with Portugal: the way we speak, the names of our cities, the architecture, etc. I'm granted to make you laugh and have a really good time. Contact me so we can start a conversation, maybe work together and make beautiful photos!
You can also get to know me better following my personal account on instagram at instagram.com/gabrielsap
Olá! Meu nome é Gabriel e sou fotógrafo profissional há mais de 18 anos (sim, sou mais velho do que pareço!) Sou nascido e criado no norte do Brasil, uma região que tem muito em comum com Portugal: a forma como falamos, os nomes de nossas cidades, a arquitetura, etc. Garanto fazer-lhe rir e se divertir. Entre em contato para começarmos a nos conhecer e talvez juntos possamos fazer fotos lindas.
Você pode me conhecer melhor me acompanhando no meu instagram pessoal instagram.com/gabrielsap.

No more selfies!
Chega de Selfies!
Leave your camera at the hotel, keep your phone in your pocket and live the moments. You worry about having a good time while we worry about capturing every moment!
Deixe a câmera no hotel, o celular no bolso e viva a experiência.Você se "preocupa" em passear e curtir o visual, enquanto nós nos preocupamos em registrar tudo!
Let´s get in touch!
Hey, thank you so much for stopping by and checking out my wok! Wether you're getting married or spending vacations in Portugal, you have just found your photographer :) I mean, unless you don't want a fun, exclusive, amazing experience, of course.
So, how about shooting me a message through the form telling exactly what you need so we can get to know each other and make things happen?
You can also contact me by e-email or phone if it's your thing.
Olá! Obrigado por vir conhecer nosso trabalho! Se você vai casar ou passar férias em Portugal, acabou de encontrar seu fotógrafo :) Quer dizer, a menos que você não queira uma experiência divertida, exclusiva e incrível, né?
Então que tal usar a formulário pra me enviar uma mensagem dizendo exatamente como posso te ajudar, pra que a gente possa se conhecer melhor e fazer as coisas acontecerem?
Se preferir, pode telefonar ou enviar um email ou falar por Whatsapp :)
+351 910 185 506